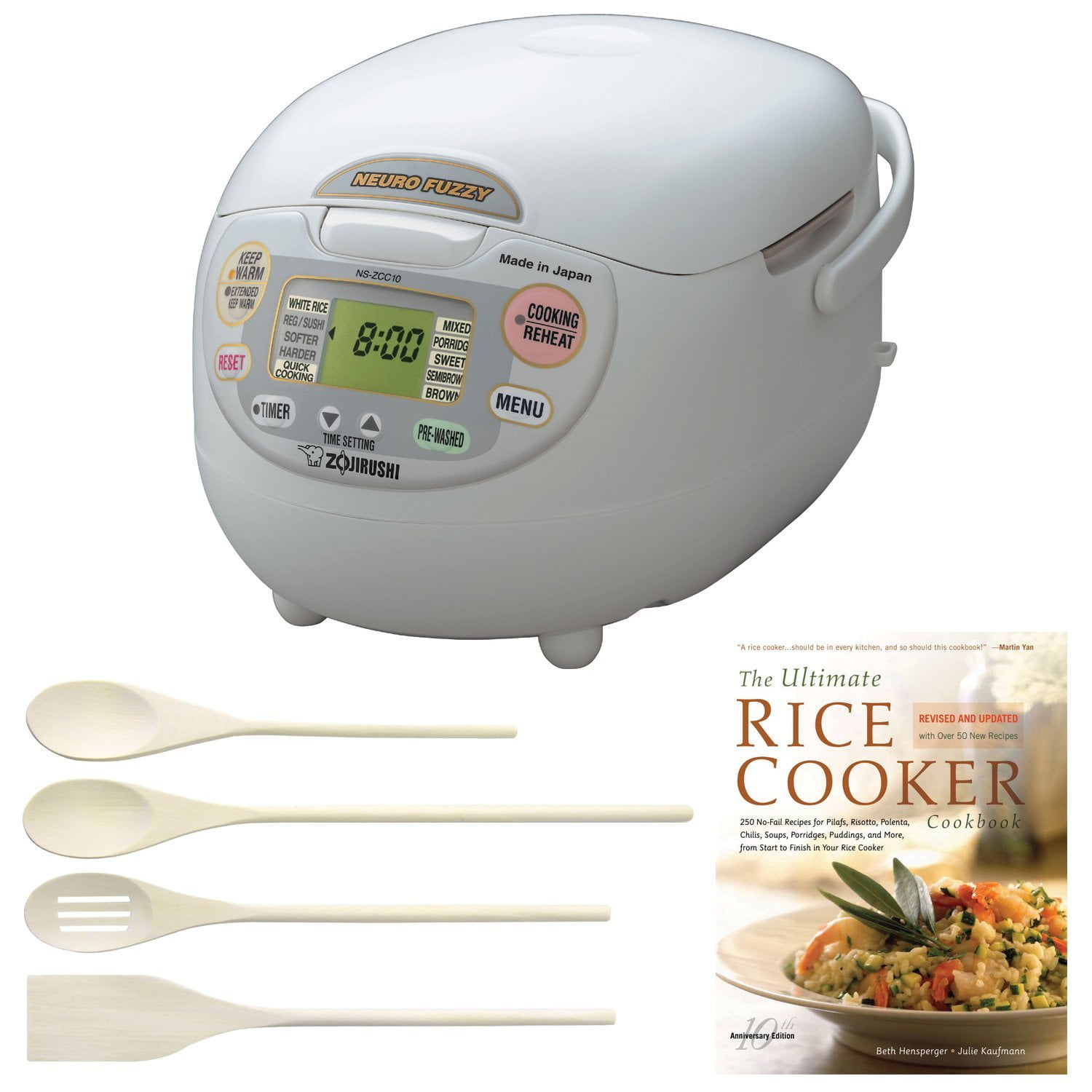 Zojirushi NS-ZCC10 Review
Best Rice Cooker Reviews
The Zojirushi NS-ZCC10 is a bestselling 5.5 cup rice cooker from a Japanese company. This advanced NS-ZCC range from the company has Neuro Fuzzy technology. It produces much higher quality of rice than standard Micon rice cookers on the market. You can prepare different type of rice using these rice cookers.
What's Included in the Package?
* A 5.5 cup computerized rice cooker with unique Neuro Fuzzy Technology * Has fully automatic and extended keep-warm features. Has a separate reheat cycle * Multi-menu selections allow you more flexibility in food preparation * Removable inner pan and lid ensures easy cleaning * The non-stick spherical inner pan is great for spherical heating * LCD timer and clock for programming * Retractable cord for an easy storage * Two measuring cups, rice spoon holder, and nonstick rice scooper/spoon * Comes with a one year limited warranty.
5.5-Cup Rice Cooker And Warmer
Many families cook rice on almost daily basis, and depending upon their skills it can go very right or very wrong. The Zojirushi NS-ZCC10 has now taken away all this guesswork, making it just a matter of rinsing the rice, adding some water, and pressing its Start button.
This rice cooker is equipped with advanced Neuro Fuzzy Technology, which ensures all your rice batches come out fluffier than ever before! It will make quick automatic adjustments during its cooking process, as if a trained chef was supervising the cooking process, and controlling its temperature. Enough with burnt or undercooked rice!
You can free up considerable time to do anything you want; watch TV, prepare more delicious recipes, or even take a short nap. So now you don't need to be anywhere around your rice anymore!
Multi-Menu Selections
This rice cooker has many built-in program modes that you can use during cooking. It's definitely one of the most versatile units. It will not only prepare a delicious white rice, but can also be used to prepare mixed rice (veggies and rice), brown rice (great for people following diets, or diabetics), and even sushi rice.
You can also use it to make porridge and oatmeal for breakfast, as well as stews, soups and curries for dinner. If you want to try something new, then you can also use this rice cooker as a modified crock-pot.
Automatic and Expended Keep-Warm Feature
Once your food has been cooked, Zojirushi NS-ZCC10 will beep a sound to let you know. At the same time, it will also switch automatically to Keep Warm mode. It will then preserve your food at the most ideal temperature for consumption.
So now it won't make much difference if your lunch or dinner is late by 20 minutes or an hour, because the rice cooker's extended Keep Warm feature will guarantee the food's freshness.
Any Issues?
Some users have reported issues with the internal battery of the rice cooker. The battery lasts for four years, and its main job is to keep cooker's clock running when it is unplugged.
If you really want to prolong the battery life, all you've to do is to keep the rice cooker plugged in. The unit can also work without the battery, though, and none of its functionality is lost.
What Others Are Saying!
It has received more than 832 reviews on Amazon. Most of the users are satisfied with its performance. Many users have posted reviews years after using this appliance. One user says-"It's now been six years since I've been using this rice cooker. It's still going strong. Its pots has some scratches due to continuous daily use, but its' holding up well". Talk about satisfaction!
Verdict
The NS-ZCC10 rice cooker is definitely a great purchase. There's no need to watch your rice batch for those final few minutes of cooking, and this saves you lot of time. In addition, the cooker is loaded with exciting features that makes its operation effortless. You can eat good rice daily, along with other foods that you can also prepare. You can also control the quality of ingredients and how you want each of them seasoned.