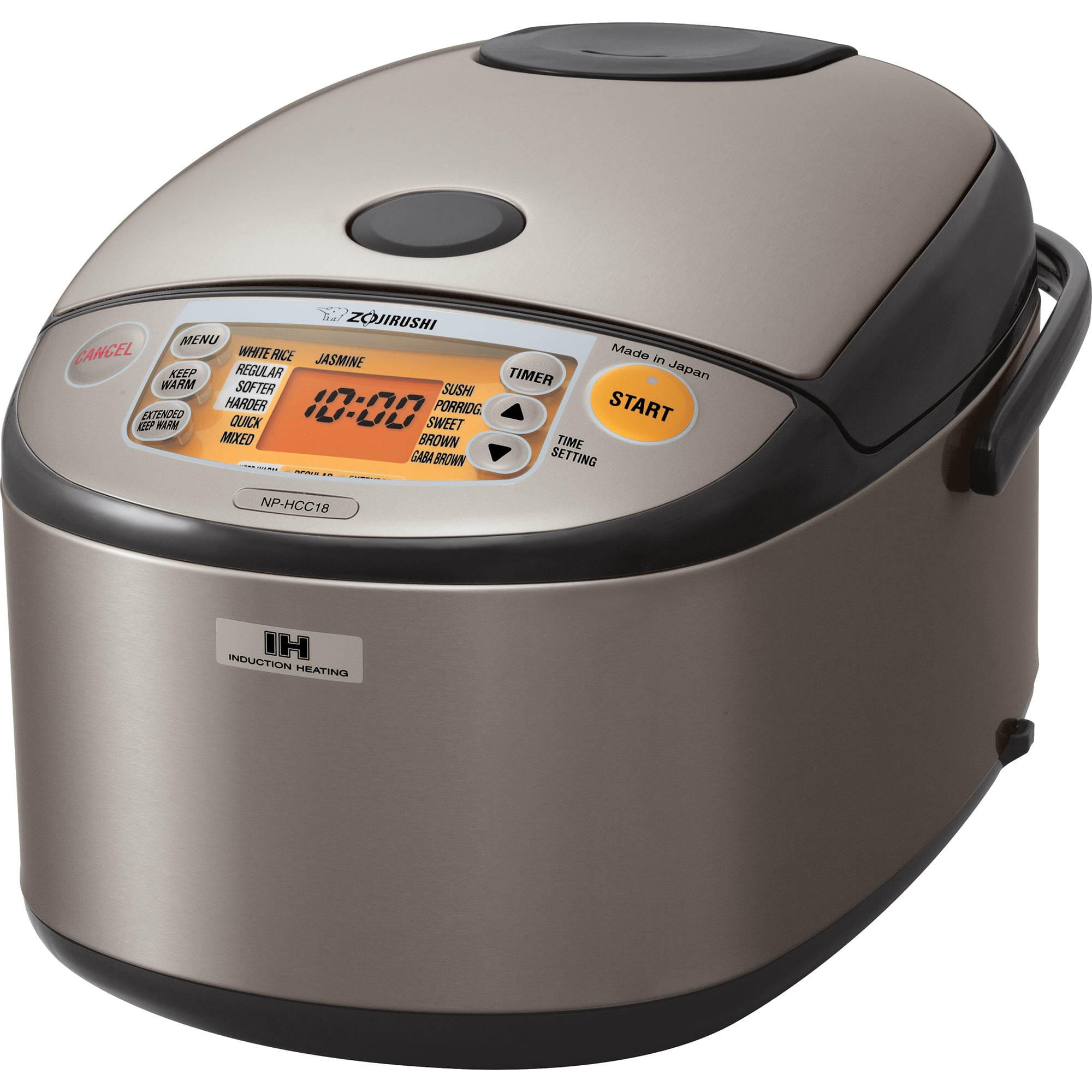 Zojirushi NP-HBC10 Rice Cooker Review
Best Rice Cooker Reviews
The Zojirushi NP-HBC10 is a 5.5 cup rice cooker and warmer that is equipped with latest microcomputer and induction heating technology, which ensures even cooking. In this type of heating the entire pan is converted into a heating conduction, which ensures even heat distribution speeding up the cooking time. This Model is essentially the same as NP-HBC18, with the only difference being their capacity.
This induction rice cooker and warmer is best for small to medium family (2-6 people). Using its multiple cooking functions, you can cook different types of rice such as brown, sushi, regular and mixed. The rice cooker has a stainless steel coated exterior that's so easy to clean. It has a non-stick cooking bowl. This rice cooker has been cETLus listed, and was tested to comply with all FCC standards.
Latest Microcomputer Technology
The new Micom technology used in NP-HBC10 allows you to choose from among different functions on its LCD panel. In fact, this rice cooker can do all the thinking for you. It automatically adjusts cooking temperature, time, and even the final wait period during steaming based on the type of rice you're cooking. Using it's Fuzzy Logic technology you can cook brown, white, or sushi rice to perfection.
GABA Brown Rice Setting
With this special setting the naturally occurring GABA (gamma-aminobutyric) is activated. The cooker soaks the rice for about two hours at 104F before it the actual cooking starts. Unlike regular rice cookers, where only brown rice comes out chewy and tough, with NP-HBC10 induction rice cooker you'll get fluffy and soft brown rice.
Features and Specifications
Using its microcomputer technology, you can make fine adjustments to temperature and cooking time according to the type of rice you're cooking.
The rice cooker has eight menu settings
They are white rice with regular, harder or softer option for texture, quicker cooking which allows you to cut cooking time, sushi rice, mixed rice, oats/oatmeal or porridge, sweet rice, brown rice and GABA brown rice. Your preferred setting will be stored in NP-HBC10 until you change it.

The easy-to-read large LCD cooker panel of the rice cooker allows you to seamlessly navigate through the options/buttons (cooking, menu, reset, keep warm, extended keep warm, timer and time setting)

It's induction heating technology ensures even heat distribution, resulting in a perfectly cooked rice each time.

Unlike other Zojirushi rice cooker model, this one doesn't' have any retractable or detachable cord. It comes with a spatula, rice measuring cup, and a spatula holder. It's detachable inner lid is easy to remove and clean.

Customer Reviews and Scores

The NP-HBC10 rice cooker and warmer is a great choice for a small family of 2 to
The unit automatically adjusts the cooking time and temperature depending upon the rice you're cooking. As of this writing, this induction rice cooker has been reviewed by 248 customers and it has a rating of 4.6 out of 5 starts, which is impressive.

Most of the reviews are generally positive, but it's very important for me to include that some of the users have raised concern on whether it is really worth spending money on.

Many reviewers have claimed that their rice cooker has failed after one or two years. Others users, on the other hand, said that they've been successfully using this rice cooker for years, and it's still working. So there're mixed reviews on its functioning.

Most users are pleased with its ability to cook brown rice to perfection. In fact, it cooks all types of rice and steel cut oats perfectly. It's definitely worth the money. I'd definitely recommend it to anyone!

Conclusion

Although the Zojirushi NP-HBC10 induction heating rice cooker slightly expensive, it's loaded with exciting features such as induction heating technology, multiple cooking functions, and GABA brown rice setting. These features alone make this rice cooker worth every penny. Majority of its users are very happy with its performance and they recommend it to others.