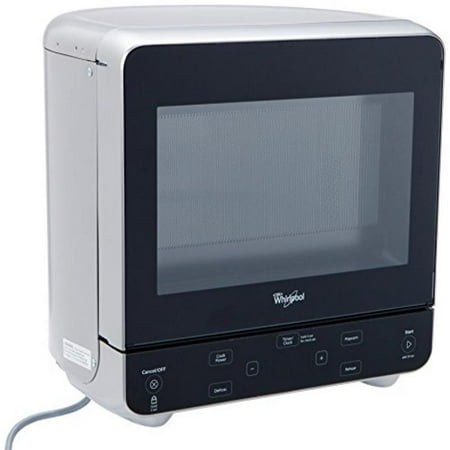 Whirlpool WMC20005YD 0.5 Cu. Ft. Stainless Look Countertop Microwave
If you live in a small apartment, a dorm room or you simply don't have enough counter space to put a microwave, then you can use a microwave like The Whirlpool WMC20005YD 0.5 Cu. Ft. Stainless Look Countertop Microwave.  This appliance is small, compact and stylish.  If you are not looking for something too fancy, but something that just gets the job done, then there is a good chance that you might like to microwave.
As I mentioned above, the Whirlpool WMC20005YD microwave is really small, but it will do what you need it to do.  If you are looking for a small microwave that will fit in your apartment, then this is the one.  It will do the cooking if you buy it with that purpose in mind, but some of the people that purchased this microwave use it mostly to warm stuff in it.   When I saw this microwave, the style caught my attention.  I really like kitchen appliances that look gadgets.  I thought it looked really cute and based on the reviews, it does what it is supposed to do.  If you like appliances that look different and that can save you some space around the kitchen then you will like this one.
Product Details :
750 Watts Cooking Power
10 Power Levels
Add 30 Seconds Option
Quick Touch Popcorn Button
Tap Touch Controls
Advantages/Disadvantages of the Whirlpool WMC20005YD
This kitchen appliance is easy to use.  Although this microwave is very small, it can also be used in a regular kitchen as well as not everyone like to have big appliances in their kitchen.  It has all the functions that you will find on a typical microwave except it doesn't have a keypad when setting the cooking time.  The microwave will fit in a corner in your kitchen, but it is very tall so make sure you measure the space you are going to put it before making the purchase.  Since this microwave is really small, it takes a while to heat things up.
Some customers really don't like the fact that it takes a while to heat things up, so if you are looking for something that gets the job faster, then this microwave may not be for you.  Personally, I don't mind a microwave that takes a while to heat my food.  I like appliances that don't use a lot of my counter space, but everyone is different, so it is up to you to decide if this is something you like  or not.  The performance of this device is good, but a big size plate will not fit in there.  The defrost function works well and it is well built.  I also have to mention that most people who purchased this kitchen appliance is happy with it.
Overall, the Whirlpool WMC20005YD Countertop Microwave is a great little kitchen appliance to have for anyone who doesn't have enough counter space or for someone who doesn't like big appliances on their kitchen counters.