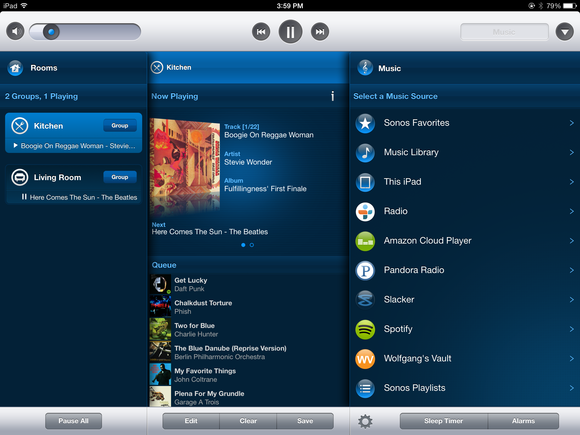 Sonos Play:3 Review
The Sonos Play:3 is the little sister of the larger Play:
It's the entry level Sonos speaker. For only $299, people can enjoy their music in Hi-Fi quality with this wireless speaker. What's great about the Sonos products is that they can all be integrated in a wireless network. In this Sonos Play:3 review I discuss the speaker design, performance and general pro's and con's.
Design
The Sonos Play:3 is a very unassuming box. With dimensions that are only 16 cm deep and 26 cm wide, it is small enough to perfectly fit on a bedside cabinet. If that design is too large for a person's liking, the box can also perform just fine on its side.
Aside from that, there are little rubber feet found on one side and on the bottom. This helps avoid scratches. At the same time, there is a built-in accelerometer that allows the box to know when it is on its side. This enables it to change its sound processing accordingly. The front is covered with a metal speaker grill that is slightly flexible.
Below the grill are the three live drivers. This includes a couple of 3 inch mid-range drivers and a single tweeter that is located between this pair. Each one of them is powered by its very own digital amplifier. There is also a bass radiator found on the back.
Although this bass radiator is a passive cone, it does not have its own driver. However, it helps control the low-end frequencies to improve bass performance. The Sonos Play:3 may not have bold styling like its competitors on the market, but it has a very practical design.
Performance
The Sonos Play:3 has the capability to deliver excellent, room-filling sound combined with a full resolving tonal balance. This makes the sound field very large. Unlike other products found on the market that are more than twice as large as the Sonos Play:3, it manages to project more sound in the room.
Price Disclaimer
Aside from that, the Sonos Play:3 has other sonic virtues that include its even-handed and neutral tonal balance. This enables it to move from Miles Davis to Mozart with ease. At the same time, it consistently delivers a clear, clean and fairly-detailed sound no matter what kind of music is being played. This makes all of the sound that the speaker produces easy and highly-enjoyable to listen to.
Pros
One of the main advantages of purchasing this product is that it has strong audio performance along with a wireless option.
At the same time, users can control this single-streaming audio system from any iPod, iPhone, Android or iPad smartphone through the use of a free app.
Aside from that, it is painless to set up and can be paired with another unit in order to make a stereo pair.
Cons
Although the Sonos Play:3 has lots of pros, it also has its share of downsides as well.
One of these cons is that it does not offer an option to hook up to a much larger AV setup from a different brand.
It does not have any auxiliary input options for a user to listen directly from their mobile device. This should not be a big problem though if you have installed the free Sonos App. This way you can easily connect it to th speaker and listen to the music on your phone or from Spotify.