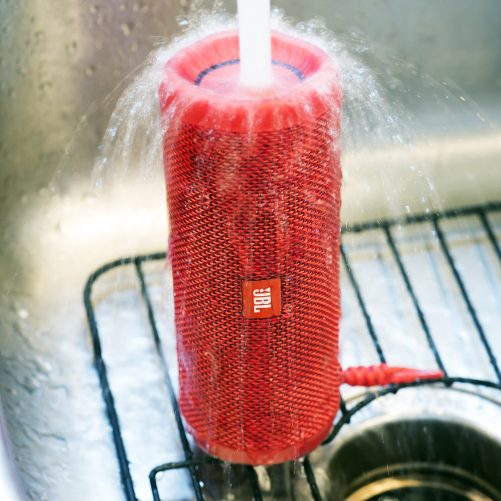 JBL Flip Review
The JBL Flip is an affordable and reliable Bluetooth speaker system that offers great sound with a convenient setup. Although the $100 price range is packed with Bluetooth speaker options, the Flip should be seriously evaluated by music lovers that are looking to beef up their music system, as it offers great sound capabilities and comes in a convenient size. Read here our full JBL Flip Review.
How it works
Consumers will be happy to know that the JBL Flip pairs very easily with your mobile phone or audio device. There is a button on the Flip that you can tap, which will put it into sync mode and make it recognizable for your music player. Once you are synced, you don't have to do much else to get music playing.
An added bonus that is offered by the Flip, and only seen on a couple other speakers (most of which are much more expensive), is the capability to switch to speakerphone. This comes in quite handy when you are listening to music but then get an incoming phone call that you need to answer. You can have some extra fun with this feature if you are having a party and you get a video call. The speakerphone option on the Flip will make it easy to answer the call and everyone will be sure to hear the caller, while looking at their video on a screen.
The Flip deserves its name as you can literally flip it to be in a horizontal or vertical stance. The material of the Flip makes it quite sturdy, no matter which position it is in. And we didn't notice too much of a variance in sound quality by altering how the device was situated. This is a neat feature and makes it especially convenient for all types of arrangements. If you do not have a lot of room to put the Flip, you can easily stand it vertically and still get some great audio performance. And you are sure to be impressed with how good the audio performance is. For it's price point, the JBL Flip offers outstanding bass and treble combinations that make it sound really enjoyable to listen to for hours on end.
Power Charger
On the side of the Flip you will see an AUX IN line, which makes it easy to hook up devices that are not Bluetooth capable. Next to the AUX IN line, you will find an opening for a power adaptor. This is one of the negatives that we found with the JBL Flip. In order to power the device, you will need to use the included power charger. The charger itself is almost as heavy and more bulky than the Flip, so this almost defeats the purpose of the slim and slender appeal of the speaker. It would've been nicer to see the Flip capable of being charged via USB. This would make it easy and convenient to take a small USB chord with you, and quickly charge it whenever necessary. Aside from this slight inconvenience, once charged, the JBL Flip does offer up to 7-hours of battery life. Users should take this into account and charge accordingly. You are sure to get plenty of use out of it from one charge and then you can charge it when not in use. Hopefully this will counteract the rather large power charger.
The Flip comes with a pretty neat neoprene carrying case, which makes it easy to take with you wherever you go. It's a small-added benefit, but its nice to see the attention and care that JBL has given when it comes to their products.
The Verdict
All in all, the JBL Flip is one of the better options that you can find for its price. There are even more expensive options on the market that we prefer the Flip over, so it truly is a great deal. You will be pleased with the music it plays and the convenience it gives with its vertical positioning capabilities.