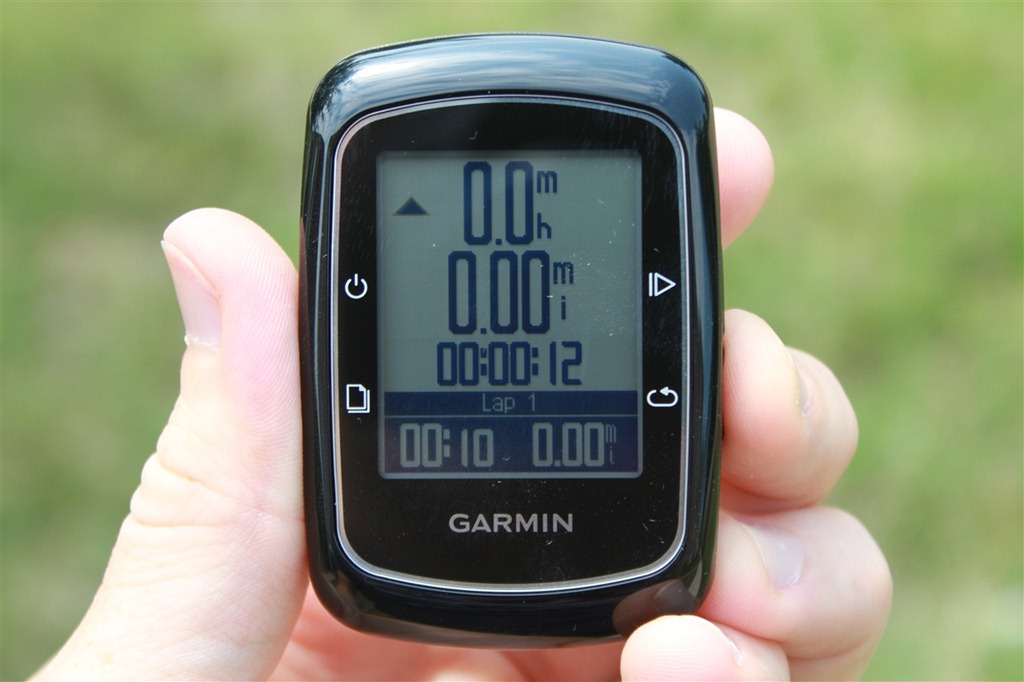 Garmin Edge 200 Review
The gadget weighs 2.1 ounces and measures 0.8x 1.9 x 2.7 inches. It's black and white display is 1.84 inches and its resolution is 128 x 16
The battery can last up to 10 hours on normal use. This handy device enables you to track your speed, distance traveled on position through the GPS.

The great thing about the display is that it is easy to read. Tracking of distance, location, speed, time and calories burnt is a piece of cake with this unit. As far as tracking goes, this is the perfect tracking device you can keep. This device is specially designed for tracking biking activities.

The casing of the Edge 500 and the Edge 200 is the same, but the information is easier to read on the Edge 200 even if you are riding in bright sunlight. While the Edge 200 and 500 collect the same GPS info, the latest device features a simplified interface designed for recreational riders.

Rather than 8 different customizable fields and several pieces of data, the Garmin 200 features only 4 lines of information for current speed, ride time, trip distance and the last one for swapping between calories burned, total ascent and average speed. The up-or-down arrow will show whether you are riding faster than your average speed.

Usability

As far as usability goes, Garmin 200 comes with an extremely sensitive GPS receiver for connecting to the satellite. With the GPS receiver, you can find out where you are while riding. Tracking your speed, distance covered and position is very ease with the GPS.

Then there is a course feature making the device much more useful. With courses feature, you can compare your current tracking information with your previous tracking information to find out if you are getting better. The courses feature saves your earlier results for comparison. Apart from this, you can ride with a bit more stable performance with this feature because it can guide you as to how you can maintain your performance.

Another advantage of this gadget is that you don't have to worry about the configuration or installation procedure. The device comes with an easy-to-understand instruction manual, which you can use to configure the product with ease. As a matter of fact, you don't have to setup the device. All you have to do is attach the biking computer to your bike and it will be ready to use.

Performance

If you bike on a regular basis and want to monitor your performance, then Garmin Edge 200 bike computer is the perfect gadget for you. For all those who are serious about tracking their biking activities, we strongly recommend that they give a go to this device.

If you want to keep an eye on your biking activities and performance, this product is an ideal choice for you. Your performance includes your time, calories burned, speed, location and distance. Once you are connected to the Garmin Connect, you will be able to check out all the mentioned details. As far as performance is concerned, this product is one of the best out there. Made from strong materials, the device comes with a rechargeable lithium ion battery, which makes this device last up to 10 hours on a single charge. Therefore, it is safe to say that this product is reliable.

If you think the device has few features, you need to think again. To check out the amazing features of the gadget, all you need to do is connect to the Garmin Connect. By doing so, all the features offered by the company will be open to you. With this advanced system of the company, you will be able to keep tabs on your activities without any problem.

Value

For Garmin Edge 200 best price, you can head to Amazon where the product is for sale with a price tag of $129.9The price is very reasonable for the majority of bikers out there. Since the product offers all the required features and is priced very reasonably, there is no reason to avoid it and go for some other product. You won't regret your decision if you buy this gadget. You won't have to spend an arm and a leg to go for this GPS biking device.