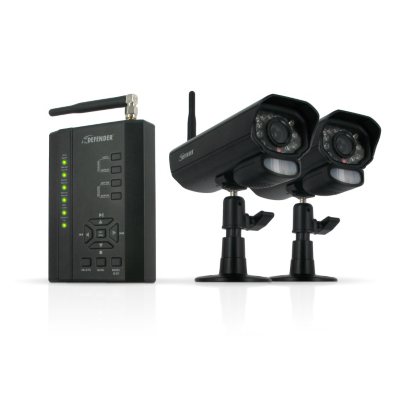 Defender Digital Wireless DVR Security Camera System with Receiver
An advanced piece of surveillance equipment – this is what the Defender Digital Wireless DVR Security System with Receiver is. It has digital wireless technology, meaning, you don't have to work with wires upon installation. Users can use their SD cards for storing footage. It's capable of capturing video in the dark with its long range night vision and can conveniently connect to a television. Using remote control access makes things easy for the user. Plus, you can expand the system with up to 4 cameras to make your home, store or restaurant potentially safe from any threats.
Defender Digital Wireless DVR Security Camera System with Receiver Features and Specifications
Utilization of digital wireless technology allows users to set up the Defender DVR Security System with receiver with ease, thanks to the absence of complicated wiring
Package already comes with a 2 gigabyte capacity SD card, that can initially capture up to 350 minutes of audio and video
Receiver can connect to any television screen with the 6ft audio/video cable that's already included
System can be controlled via a remote, giving you the utmost convenience while making your security tight
Capable of taking footage at night time with night vision technology
The Reviews
The Defender Digital Wireless DVR Security System with receiver generally got positive reviews from customers in Amazon, citing the ease of set up, clear video and remote controlled convenience. Most reviewers say that set up is very, very easy thanks to the digital wireless technology that the system uses. In the advertisements, the Defender (we will call it this from now on), can capture footage in the dark at up to 40 feet. This was apparent in one of the reviewers' testimonies where he used the system during a moonless night and was able to observe some activity. However, because it uses infrared LEDs for this purpose, the Defender can't be a stealthy surveillance system.
The reviewers also noted about the color of the camera. While not that rich, users can totally distinguish one color from the other, especially when files are viewed from the SD card that comes with the package. Others maintained that what they see is black and white when they watch the footage using their TVs. But, when using the computer, things revert to the normal, full-color scheme. This, then, must be a problem with their hardware setup. The system also successfully detects motion and will do so within a distance of 100 feet.
However, problems also surfaced with the use of the Defender. Reviewers say that the system isn't really hi-resolution as it only sports a poor VGA camera. This takes down the capability of the system to accurately pinpoint the potential trespassers or violators of your home or store. But, because of the Defender's sort of mighty features, this surveillance system is very easy to recommend.
Overall, if you're looking for a convenient piece of surveillance equipment for your home or small business, we highly encourage you to look and invest on the Defender Digital Wireless DVR Security System with receiver. The ease of access, set up, use and working features provide great protection from any potential threats you might encounter.