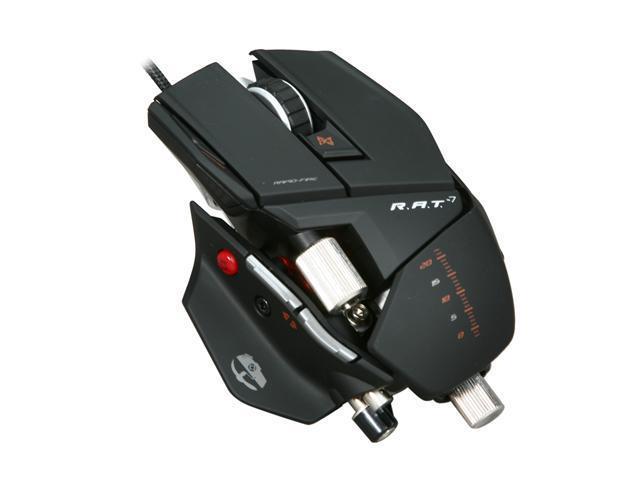 Cyborg R.A.T. 9 Gaming Mouse Review
Average user rating:
The Cyborg R.A.T. 9, like its sibling the R.A.T. 7, is a very different kind of gaming mouse. This mouse manages to do everything the 7 does, but all wirelessly. Straight out of the box, this mouse is competitive with nearly every gaming mouse on the market. Like Cyborg's other gaming mice, this mouse is all about customization. Almost every tiny feature of the mouse can be changed. And while the amount of customizable features is staggering, this mouse still doesn't stint in other important areas like speed and accuracy. If you are interested in purchasing the Cyborg R.A.T. 9, click here to see it on Amazon.
Speed and Accuracy
The R.A.T. 9 is a top contender in the areas of speed and accuracy. The mouse has a 5600 DPI laser making it among the most sensitive mice along with others such as the Razer Mamba and the Logitech G70
Adjustable sensitivity – as expected – comes standard. This is useful as it allows you to quickly cycle between slow and steady or quick and twitchy. As I noted in the review of the 7, one of my favorite features of the mouse is its "precision aim mode." Along the left side of the mouse is a red button. While pressed, the mouse instantaneously drops the speed of the mouse so that you can aim with the highest level of accuracy. This is the kind of feature that really gives you a concrete advantage in competition.
Customization
The R.A.T. 9 has plenty going for it in the speed and accuracy department, but this is just scratching the surface. The customization is really what stands out. The body of the mouse is made of solid aluminum, and it can be adjusted to fit any hand. Do you like to palm your mouse? This piece of hardware is perfect. Prefer a claw grip? That works too. You can make the mouse longer or wider by turning some knobs. The R.A.T. 9 also comes with six swappable grips, three for your pinky, three for your palm. It also comes with an adjustable weight system that many high-end mice are beginning to include. Six weights are included for a total of 30 grams of extra weight that can be added or taken out.
Extra Features
The R.A.T. 9 also has some other features that make it great. There are 5 programmable buttons that can be programmed to do different tasks. While this is pretty normal for a gaming mouse to have, the cyborg also has three different modes you can switch between that cause the buttons to do different things. One thing to note is that this mouse is wireless. Two lithium-ion batteries are included so that one can be charging while one is being used. This is a useful feature that should come standard in all wireless mice.
Conclusion
If you like the idea of a fully customizable mouse, the R.A.T. 9 is for you. Every base is covered with all of the features this mouse includes. Cyborg really has something new and different with these mice, and it shows. Having said that, if you prefer a wired mouse like I do, you might check out the R.A.T. 7 instead.
Where to Buy?
The R.A.T. 9 is available in some computer stores that include gaming peripherals and online. One of the best bets for this kind of purchase is Amazon. Click here to the see the R.A.T. 9 on Amazon.